It will be dark soon, can you handle what's coming?
Photo: Dylan Rose
"Hi DimeBrite, this is Dylan. I don't suppose you want to got to Africa with me to chase monster tarpon from the beach and then track gorillas in the jungle with pygmy trackers at the end of the month?"
I read the text and thought Gabon.
"Sette Cama?"
"Yeah, this just came up on Friday and just starting the planning process. I'm going to go for sure."
I knew about it from fishing articles, but never thought I would find a trusted fishing partner who would do that kind of tough trip. Now a figure from my Avid Angling past was going.
"Yeah, I'll go."
Just say yes and figure out the details later, we would leave in less than 6 weeks.
My wife sounded concerned when I explained the trip plan.
"You never mentioned Gabon before. Are there bugs, is it hot?"
"Just a few mosquitos and flies, no big deal."
I had just gotten my yellow fever shot, typhoid fever shot, anti-malarial pills, and antibiotics. I pulled out my old mosquito net and sprayed an entire bottle of permethrin on shirts, pants, and socks. Toss it all into the travel bag along with extra fly lines for the 9, 10, and 12 weights (floating, intermediate, and fast sinking). Oh, and the stripping basket and rain coat too!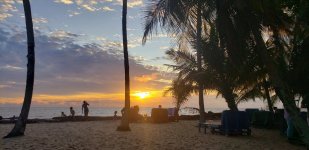 Walking down the beach at Libreville, Gabon we enjoyed the African sunset enroute to meeting Rob Scott of Africa Waters. Rob welcomed us at the Tropicana along with his two trusted guides, Ewan and Teddy, and an enthusiastic English adventuress just finishing up her long trek in Gabon. Rob explained that the Gabonese people and leadership have a strong cultural belief in staying connected with nature, which has enabled the nationwide protection of wildlife and fisheries. In 2002, the government established 13 national parks to promote ecotourism and protect its natural resources. Later I came to fully appreciate the complex logistics that Rob has carefully put into place to make his fishing operation here successful. His optimism, charisma, connections, and energy are essential to his endeavors across Africa. "We figured out the tides that work best for fly fishing here" he said while nodding at the crescent moon over my shoulder. "Now we need the rainy season to begin to get some fresh water moving out of the lagoon".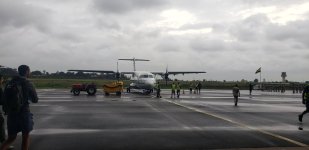 In the morning, we met the other four anglers and caught our air transport out of Libreville. A pair of French ex-military pilots took us on a hair raising ride over the coastal jungles and lagoons before executing a corkscrew landing at the petroleum settlement of Gamba. Pipelines, fuel tanks, and red dirt roads are the sum of civilization at Gamba. An old truck drove us and our food stocks to the marina on the southwest corner of the huge Ndogo lagoon system. A heavy green fiberglass boat would be our transport into the heart of the lagoon, taking us north to Sette Cama (population 30 on a busy day).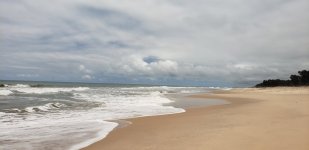 The sleepy village of Sette Cama is just south of the boundary with pristine Loanga National Park. The surf of the Atlantic Ocean is on the west side of town and the endless dark tannic waters of the Ndogo Lagoon are on the east side. Its people mainly fish and work in the ecotourism business. The golden sand beaches are wild, and you can hike them north or south for many miles without seeing another person or settlement. It is true wilderness, spoiled only by some plastic debris washing up from the Congo River to the south.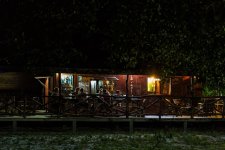 Photo: Dylan Rose
Home base was a rustic but sturdy series of huts with a main lodge for us to gather for meals, preparing our gear, and discuss fishing plans. Arriving here was the death of sleep. Already severely jet lagged, I never slept more than 3 hours at a time at Sette Cama. We took two short naps during the day when fishing died under the equatorial sun. Late at night after long evening fishing sessions we crawled into bed for a short rest before waking for a pre-dawn start.
The guides' orientation was short and simple. "Don't ever wade above your knees", the Zambezi sharks (bull sharks) are numerous and feed aggressively in the surf zone. "Forest elephants come into camp at night and early mornings, they can be very aggressive so wear your head lamps". We all had 1200 lumen head lamps on us when the sun was down, and especially for the night fishing in the surf zone. "If you have to choose between a charging bull elephant and the Zambezi sharks, take your chances in the water with the sharks. The elephant is certain death." Other than that, we rigged the 9 weights with 40 or 50 pound straight fluoro leaders and the 12 weights with 100 pound straight fluoro leaders. I used two 9 weights in the boat for morning sessions, one with a floating line and the other with an intermediate shooting head line; flies were large Clousers, EP baitfish, or smaller brush flies. At night I fished two 12 weights, one with a full sink intermediate line and the other with a fast sink tip line. Flies were bulky mullet imitations 6-7 inches long, tied on super strong Gamakatsu SL15-2H hooks 3/0 or 4/0. All my reels had very strong drags and either 60 or 80 pound gel-spun backing.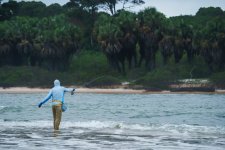 Photo: Dylan Rose
Our first practice session was a short trip out to the mouth of the lagoon where it empties into the surf zone. Arriving before sunset allowed us to study the surroundings before the real fishing began during darkness. The inside corner of the lagoon on the south shore was usually gentler waters, with water moving in or out depending upon the tide. A sandy shelf formed at the wave line at our feet, and the guides warned us "Never step over the edge". Packs of longfin crevalle jacks occasionally moved through near the beach feeding on baitfish. My first fish in Africa was a hard fighting longfin jack that evening. Guinean barracuda explosively jumped in the lagoon channel as they fed on the congregating mullet. A five foot blacktip shark shot up into the air and landed with a crash right next to the beach. But the tarpon always stayed away during sunlight. Looking across at the north shore as I stripped flies I watched for elephants, hippos or monkeys hidden in the thick forest to reveal themselves.
Photo: Dylan Rose
The surf zone was intimidating to fly fish. Wave sets were big and violent, casting a fly had to be timed carefully to keep in the feeding zone. Other guests quickly put down the fly rods and used surf casting rods to present big barrel poppers or swim baits. Several times I saw large Zambezi sharks zipping past the shallow silty foam line in front of me. It was unnerving as hell. Any fish hooked here needed to be fought hard and landed with caution. I pulled out my head lamp as the remnants of sunlight dimmed behind thick dark clouds on the horizon. I felt like Riddick grimly waiting to face the horrors the twilight would bring. Night came fast and was beyond dark. We had to cast with head lamps off, using faint blue bioluminescence and sounds of crashing fish to direct casts. You felt very alone at night, even if another angler was only 100 feet away, you couldn't see them unless a light was turned on to remove a line tangle or tie on a new fly. It was just you and your casts, retrieving while listening for packs of predatory fish that ghosted into the lagoon to feed. Sneaker waves coming in behind you pushed your legs closer to the forbidden deep ledge. Don't nod off, stay alert! After a couple of hours the guides called it. "Okay guys, the big fish just aren't showing up on this tide tonight. Let's get some sleep and hit the lagoon early in the morning." Motoring back to Sette Cama, I marveled at how the Gabonese boatmen navigated the winding channel in darkness without GPS. To fish successfully here, we would also just need to function well at night.
To be continued... Lagoon Fish
Last edited: