As a kid I fished the resident cutthroat population this water offers, but seldom ventured towards the mouth. And thus an afternoon outing before a family get-together turned into a two day obsession working the skinny water into the tidal salt.
(End of September trip.)
Day 1: Dogs and Surprises
Armed with a handful of flies impregnated to my foam line keeper and my dog eagerly awaiting a catch, within minutes fish were found. I towed my 4wt to the creek but the fish were spooking easily and time constrained I wasn't willing to rig up a tight line setup. So, out came the ribbon dancing, a Japanese Wakata 9' in 6:4 action found the first fish.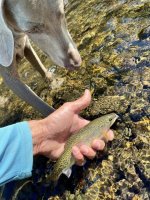 My dog made certain that I landed it, even if the fish tried to go between his legs.
After the first, I spooked countless others, gasping in shock as some huge fish darted about. Being as stealthy as a 9' fixed line offered, I spotted a 15 in. cuttie amongst a few others in a pool. Repeated casts and heavy persistence finally got a take. The fish brought a wonderful "whizzing" sound to my line as it sliced through water tension with every run.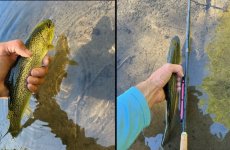 The other fido found the beagle barrier…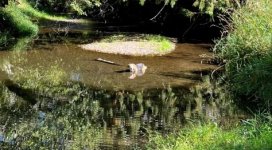 Be it the number of fish I spooked and their sizes, I was eager to spend more time. Day two was a guarantee.
Day 2: No Dogs and Plenty of Fish
I left the soft 9' Wakata, both dogs and went two feet longer for the stiffer 11' Hane rod. I brought my 4wt again but never unpacked it, but this time carried my favorite trout patterns.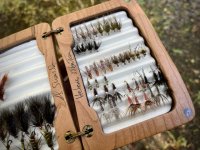 While working downstream in solitude I heard the crunching of bones, an otter was devouring a cutthroat in front of another two. I kept my distance and watched the tussle as the winner chose a log to perch, just upstream of the beagle barrier from the day prior. The others made a bunch of noise and watched me from the bushes, when an incredibly strong whiff of ammonia lingered. "Mark your spot all you want otters, don't worry I'm catch and release here."

I continued past, covering water I wasn't able to see with the dogs and found some sizeable eaters.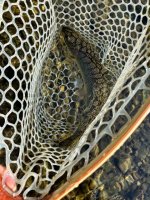 Never having caught a rainbow in this water, the surprise to find TWO lurking just outside tidal water was incredible. The presumably young steelhead grouped with cutties in schools of 20-30 fish and were thick!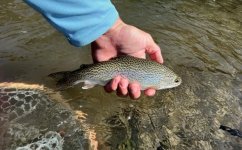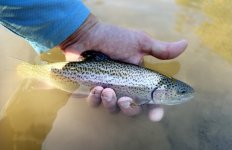 I managed to hook the second largest fish spotted, a beautifully bright cutthroat that lurked in one of the schools.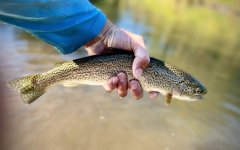 Without landing the largest I still wonder what it was, likely tipping 20", the curiosity will bring me back again.
More photos on next post!